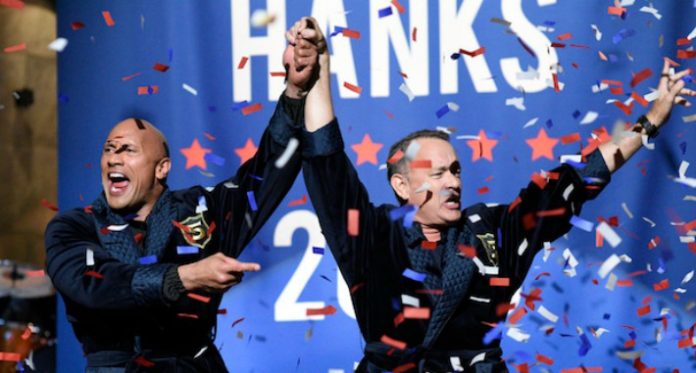 Dwayne Johnson has been having a good time as of late. In 2016, Forbes named him the highest paid actor in the world. He managed to bag himself a cool $64.5 million. This is double the amount he made in the previous year. Much of this increase was due to the upfront fees he received for several films still in the pipeline, one of which is Baywatch which is about to launch.
Of course, this is The Rock. He is never going to be content with the position he has. He always wants something more. He is a natural challenger. Now he has his sights set on a different spot. He has hinted at a potential presidential campaign.
Now, we don't know how serious Johnson is about pursuing the top seat in the country. He has discussed his politics in past interviews, so we know that he does show an interest. When questioned on Jimmy Fallon's Tonight Show, all he said was:
"Three and a half years is a long ways away. So we'll see".
You can check out the video of his interview below.
While Johnson was not willing to comment on President Trumps current performance in a recent GQ interview, he does say that he does not support what is being dubbed as the 'Muslim ban':
"I believe in our national security to the core, but I don't believe in a 'ban' that bans immigrants. I believe in inclusion. Our country was built on that, and it continues to be made strong by that. And the decision felt like a snap judgement".
Johnson was registered in the past as a Republican. However, in recent years he has registered himself as an independent instead. The best part is not the fact that Johnson has expressed an interest in running for President, it is the fact that a recent poll indicates that if he did run for President today, he would beat Trump in an election. Whether this plays out is anybody's guess.
During his interview with GQ, he did state that both the Republican and the Democrat campaign approached him to endorse the candidate. This demonstrates that there is interest in the world of politics for somebody like The Rock.
Johnson recently hosted Saturday Night Live for the first time. His opening monologue was a 'joke' which was meant to highlight the start of his campaign. He then claimed that he had already chosen a running mate. This set up a surprise appearance from none other than Tom Hanks, Oscar winner. Applause rung out from the studio with Tom Hanks accepting the nomination with:
"Dwayne, Dwayne, Dwayne. I could not possibly…turn this down! I'll do it"
The pair then joked about who would give them an endorsement. Hanks said that he would probably secure the elderly vote as he had fought in WWII in 10 different movies. Johnson said that he would secure the minority vote as people would just assume that he was whatever they are.