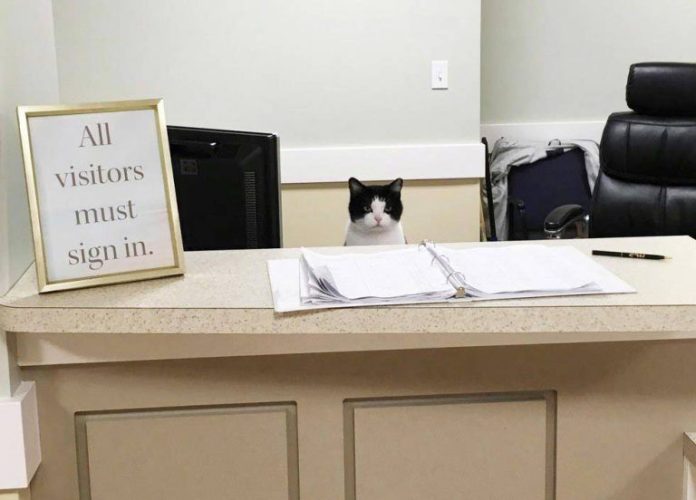 Meet Oreo the cat! This adorable black and white kitty wandered into a nursing home one day, had a look around and decided it was the perfect place to get a job.
Oreo showed up outside St. Augustine Health Ministries in Cleveland, Ohio and obviously liked the look of the place because she kept coming back.
The friendly feline quickly crept her way into everyone's heart, and before they knew it they had a kitty sitting behind the reception desk helping her human friend with day to day work.
"She's like the family here. She helps the residents, she helps the employees, and we just love her," said receptionist Carmen Delgado.
She was working wonders because most of the residents at the facility grew up with pets or had a pet. Oreo reminds them of home. "Most of the people we serve here had pets… so to have Oreo here, for them to be able to come out and pet the cat and see how the cat is doing… it brings… those feelings of home " explained the director of advancement.
All the staff at the facility are very proud of Oreo and some even carry photos of her.

She brings joy to everyone at the facility and her presence has encouraged many residents to come out and interact with the kitty.
"The residents were so excited to have Oreo around. They all love her and seek her out for a snuggle."
Her favorite place to hang out is at the reception desk during after hours, answering phone calls!

This sweet-natured kitty has added so much joy to people's lives there. They gave little Oreo a forever home, and she returned the favor by giving them lots of purrs and cuddles.
Check out the Video NEXT if you want to see this dog for yourself! It's really worth seeing!  And don't forget to share!